The ultimate thermal interfaces for
power electronics
High-performance thermal interface materials formulated and manufactured by Magna-Power specifically for use with power semiconductors.
Pitel Paste Formula AZ-01
| | |
| --- | --- |
| Product Type | Thermal Compound / Grease |
| Base | Aluminum Zinc |
| Conductivity | Non-Conductive |
| Thermal Performance | High |
| Package Types | Container, Tube, or Syringe |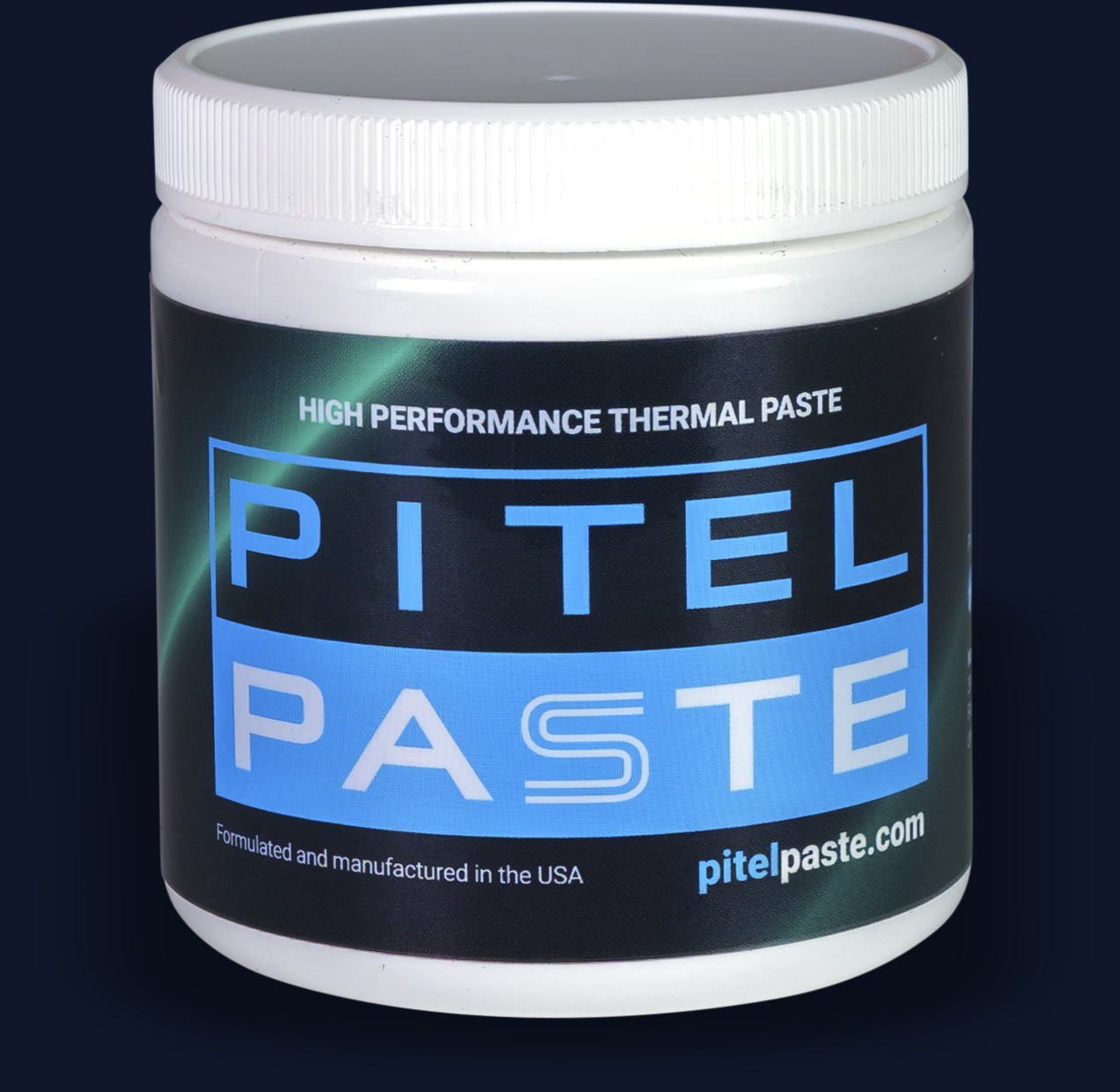 Description
Pitel Paste AZ-01 is Magna-Power's signature thermal paste formula, designed to satisfy the majority of semiconductor thermal interface requirements for power electronics manufacturers. AZ-01 finds the perfect balance among long-term thermal resistance, viscosity and cost.
Pitel Paste AZ-01 uses a mixture of high-concentration powderized aluminum and zinc oxide suspended in non-conducting silicone oil. This thermal paste formulation was designed specifically for power electronics applications, filling microscopic voids between semiconductors and heatsinks, resulting in a better thermal transfer and ultimately, improved performance capabilities. AZ-01, refined and validated over 8 years by Magna-Power, has a proven track record for delivering superior thermal performance in some of the most demanding power electronics applications.
A wide range of deposition methods are supported for a variety of production needs, including manual deposition, automated dispensing, pneumatic dispensing, and stencil printing.
Pitel Paste is manufactured in the USA at Magna-Power's manufacturing facility and is compliant with both REACH and RoHS directives.
Packaging
The available packaging and bundling for Pitel Paste Formula AZ-01.
Package Type
Package Description
Volume
A
Resealable Container
236 ml

(8 oz)

A
Resealable Container
473 ml

(16 oz)

A
Resealable Container
19,000 ml

(642.47 oz)

B
Tube
325 ml

(11 oz)

B
Tube
946 ml

(32 oz)

C
Luer Lock Syringe
1 ml

(0.03 oz)

C
Luer Lock Syringe
5 ml

(0.17 oz)
Product Specifications
The specifications for Pitel Paste Formula AZ-01.
Specification
Value
Testing Method
Color
Silver Gray

N/A

Density
2.32 g/mL
ATM D70
Viscosity at 10 RPM (T-SP-2)
80,000 - 110,000 mPa·s
ASTM D2196
Shearing Tendency
Shear thinning
ASTM D2196
Service Temperature
-20°C to 200°C

N/A

Storage Temperature
(Long-term)
-25°C to 30°C

N/A

Color
Silver Gray

N/A

Dispersion Stability
Slight oil separation may occur
ISO/TR 13097:2013
Thermal Conductivity
2.7 W/m·K
ASTM D7984
Thermal Contact Resistance
(40 psi, 25°C)
6.5 x 10-6 K·m2/W
ASTM D5470
Absolute Thermal Resistance
(40 psi, 25°C)
0.008 K/W
ASTM D5470
Breakdown Voltage
2.0 kV/mm
ASTM D149
Minimum Bond Line Thickness (40 psi)
25 µm

N/A

Volatile Content
0.008%
ASTM D2369
Volume Resistivity
1.2 x 1014 Ohm·cm
ASTM D257
Dielectric Constant
24.08 @ 1 kHz
23.87 @ 10 kHz
ASTM D150
Dissipative Factor
0.01237 @ 1 kHz
0.00390 @ 10 kHz
ASTM D150